Click here to read: Tour Information and Deposit and Cancellation Policy.
Larry Ditto Nature Photography
Instructional Nature Photo Tours 2016-2017 Schedule at a Glance
To register for an IPT or Workshop, email me at:
lditto@larryditto.com
 and declare the specific activity you want to attend.  I'll get you signed up.
Rio Grande Valley Birding Festival, Harlingen, Texas 
November 3 & 5, 2016
Register with RGV Birding Festival, Harlingen, Texas by email
Photograph with a Pro at South Padre Island and North American Butterfly Association Butterfly Park
Bosque del Apache NWR, Socorro, N. M.
November 29 – December 1, 2016 (Tue. – Thurs.)
Sandhill cranes, snow geese, hawks, mule deer and more
Whooping Cranes, Rockport, Texas
February 7 – 9, 2017  (Tues. – Thurs.)
whooping cranes, pelicans, American oystercatchers, and various other water birds.
Big Bend National Park, West Texas
March 29-31
Landscapes, stars, and some desert wildlife.  With adequate winter rains, many desert plants will be blooming in late March.
FeatherFest, Galveston, Texas – April 4-5 April (Rockport, Texas Pre-festival Wading Birds) and 6-7 (Galveston Featherfest Photo Tours and Talks), 2017
Register as soon as possible – this one fills quickly.
Transition Ranch Trophy Shoot – April 11-14 (Tues PM-Fri AM) 

FULL
Photography afield away from the blinds with some blind photography.  Emphasis on rare songbirds including golden-cheeked warbler and black-capped vireo.
 

Block Creek Natural Area, Comfort, Texas

; 
April 26-29 (Wed PM -Sat AM)
Birds (painted buntings, vermilion flycatcher, eastern bluebird, hummingbirds) and more.
Transition Ranch Bird Photography
Uvalde, Texas –  May 3 – 6, 2017 (Wednesday PM -Saturday AM)
Bird Photography from blinds;  frequent subjects include blue grosbeaks, tanagers, orioles, scrub jays, bobwhite quail and much more.  Occasionally golden-cheeked warblers and black-capped vireos may come to the blinds.  Most photography will be from blinds with water features and feeders.
Lucifer Hummingbirds, Alpine, Texas,  May 8-10
————————————————————
Davis Mountains Hummingbird Celebration Pre-festival Hummingbird Photography – August 20-24, 2017 
Photography at hummingbird feeders with natural light and with one or two sets of high speed flash setups.  Photograph one day at Christmas Mountains Oasis (Lucifer Hummingbird) and two days in the Davis Mountains at Crow's Nest Ranch and higher elevations known for having Magnificent, Calliope, Broad-billed, Rufous  and other hummingbirds.  Photographers can sit or walk about the small woodland habitat at the Oasis to photograph various hummingbirds and local nesting songbirds, scaled quail and occasional small mammals. 
* All tours are subject to change. Please check here and in the Newsletter for the latest information. Details will be e-mailed to participants approximately 30 days before tour.
Cl

ick on any image to view full size.
Photo Tour details below!
_____________________________________________________________
 Rio Grande Valley Birding Festival – November 2016
 Register online through the Rio Grande Valley Birding Festival and sign up for either or both of my field trips.  Both include transportation, professional guide and photographer to work with you and offer advice.  We will see waterbirds, wading birds, ducks and such at South Padre Island and local bird specialties including Altamira oriole, clay-colored robin, plain chachalaca and butterflies at the NABA park.
________________________________________________________________________________________________________
Bosque del Apache NWR, Socorro, New Mexico 
 November 29 – December 1, 2016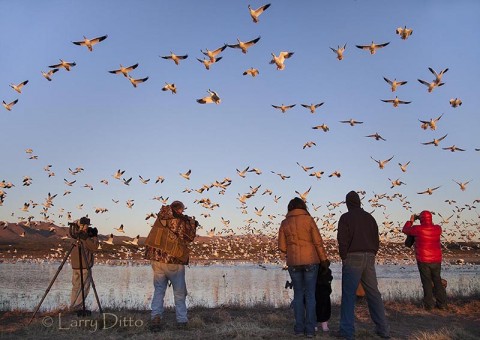 Photograph wildlife like sandhill cranes, snow geese, Canada geese, ducks, roadrunner, coyotes , hawks and more at the famous Bosque del Apache National Wildlife Refuge, New Mexico.  We leave Socorro each morning before sunrise, drive 18 miles to the refuge to catch the sunrise and roosting geese and cranes. Then we will work along the auto tour route corn fields and marshes until mid-morning.  Before noon, we will return to town for the mid-day hours to download, eat lunch and review the morning's shoot. By mid-afternoon, we will return to the refuge for bird photography and beautiful sunsets.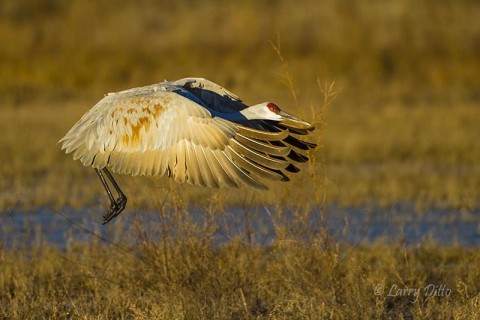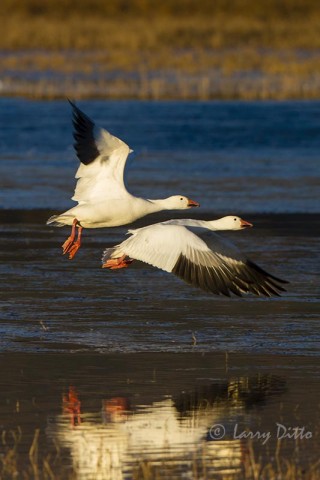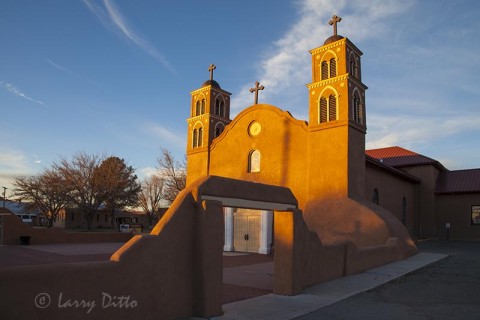 Capacity: 6 photographers (minimum 4) Rates:  $200 deposit at registration with the balance due by September 15.  Daily rates are $225/day/photographer. Each photographer provides his/her own transportation, lodging, meals, refuge and entry fees, etc.
Ample motels and restaurants are available in Socorro,  I stay at the Econo Lodge; it's roomy, clean and comfortable and next to a nice 24 hour restaurant.  We will dine at a number of local restaurants. Walmart and grocery stores are available in Socorro.
contact me at: lditto@larryditto.com 
or call me at 956-330-2114
_______________________________________________________________________________ 
  Aransas National Wildlife Refuge, Rockport, Texas  
February 7-9, 2017 (Tuesday – Thursday)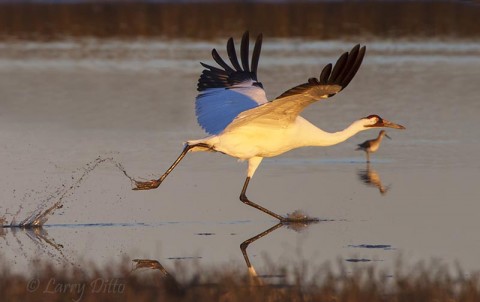 Photograph endangered Whooping Cranes from a charter boat with an experienced captain/guide. Our boat is flat-bottomed (ideal for tripods) and can get you in close for those eye level photos.
When the birds are feeding close to the waterway, our captain will maneuver the boat to the best photo position without disturbing the 5′ tall birds. In most years, we also get excellent chances at American oystercatcher, roseate spoonbill, brown pelican and other water birds. We photograph the cranes in the morning, then work birds and harbor scenes in the Rockport-Fulton area during the afternoon.
Capacity:
 5 photographers (minimum 3)
 DEPOSIT: $200 due upon registration. Balance due 30 days before photo tour.
I stay in Fulton at the Hampton Inn and I highly recommend it.   Participants are responsible for their meals, transportation, lodging and entry fees.
____________________________________________________________________________________________
Galveston FeatherFest (and PhotoFest)
April  (4-5 and 6-7) 
(Tues & Wed) Wading Bird Photography at Rockport;
(Thurs & Fri) Talks and Tours in Galveston
Register quickly as most of the photography sessions fill well in advance.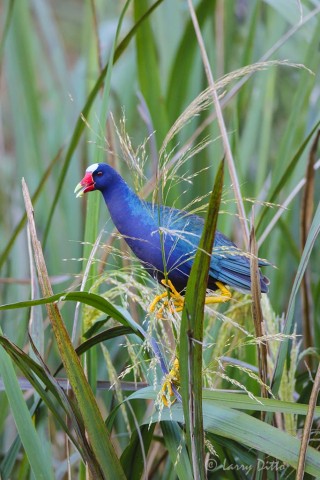 _________________________________________________________________
Transition Ranch Trophy Shoot – April 11-14 (Tues PM – Fri AM) FULL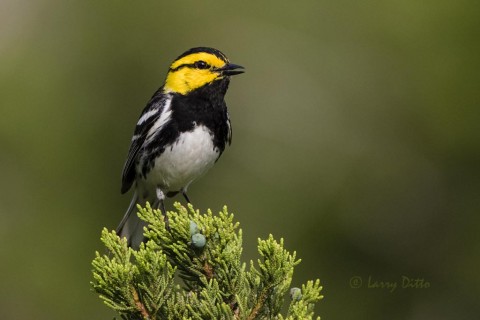 We will be going after golden-cheeked warbler, black-capped vireo and various migrant songbirds including blue grosbeak, painted bunting, varied bunting and Scott's oriole .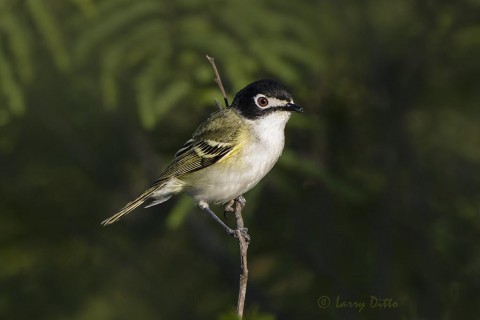 Each morning, we will hike into the birds' habitat, then spend the afternoon at photo blinds.
Arrive at ranch by 2 PM for Tuesday afternoon shoot and depart Friday morning by 11 AM after morning shoot.
Cost:  $1425 total includes ranch and blind access, room, meals, and my assistance for 3 days of photography.  **Deposit is $200.
Participants:  Limited to 3 photographers.  I will send more specifics before the trip including directions to the ranch.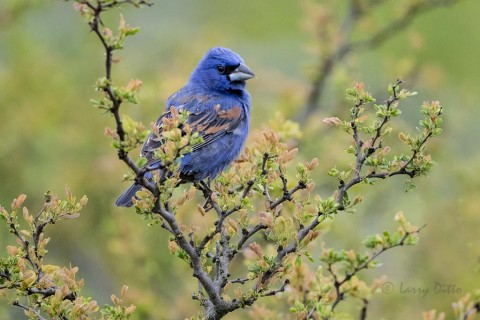 ______________________________________________________________
Block Creek Natural Area, Comfort, Texas  – April 26-29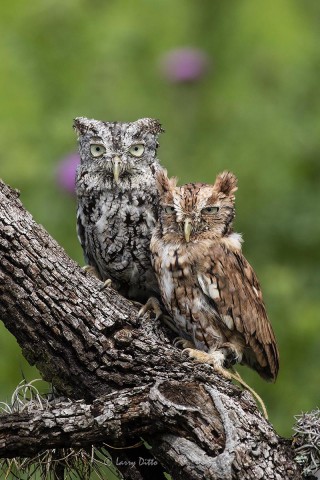 Photograph birds and landscapes for 3 days (2 half days and 2 full days) at the beautiful Block Creek Natural Area.   Accommodations are on the area at the home and cottages of Sharron and Larry Jay.  First rate photography blinds are near the headquarters and feature a colorful variety of Texas hill country birds, including painted bunting, vermilion flycatcher, eastern bluebird, summer tanager, and black-chinned hummingbird.  A number of landscape opportunities will be available along Block Creek and in the vicinity of the natural area. *We plan to shoot hawks and owls presented by Last Chance Forever bird rescue team which will visit the ranch one morning during our visit.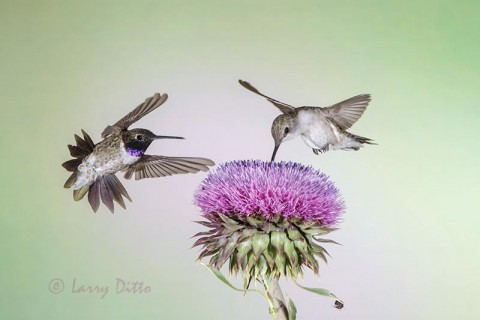 I will prepare my hummingbird setup to allow the photographers to work with high-speed flash to capture "wing-freezing" shots of black-chinned hummingbirds feeding at flowers.
Cost:
  $475/day/person (includes the workshop, lodging, meals, ranch and photo blind access for three days) .  If  Last Chance Forever raptor photography photo session is available, there will be an additional one time $50 charge.   We will have access to a meeting room with projector, as well.  Room and board outside the natural area is too far to be practical.  Plan to arrive at 3:00 PM the afternoon before your photo tour.   I'll get you in a photo blind and then we will have a great supper with the group.  This will allow time for orientation and getting acquainted.  Departure is by 11:00 AM on the forth day of the tour with breakfast provided.
Capacity:
 5 photographers
A $200 deposit is due upon registration.  The balance is due by March 15.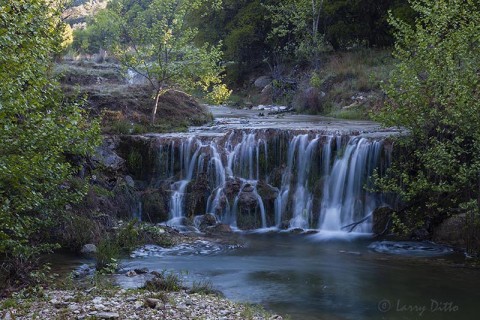 __________________________________________
Transition Ranch, Uvalde, Texas  
May 3-6  
Two half days and two full days of photographing birds in the Texas hill country.  Stay in nice ranch accommodations and enjoy having your meals prepared an waiting before, during and after an enjoyable day of bird photography.  While there is some chance of getting golden-cheeked warbler or black-capped vireo at the photo blinds, other birds are more common at those sites, including blue grosbeak, migrating warblers, summer tanager and various orioles, painted bunting, etc.  Songbirds are preparing for breeding and nesting at this time and are in beautiful plumage.
Limited to 4 photographers.  Total is $1125 and includes my guide and instructional fee, ranch and photo blind  access, lodging and meals for two half day sessions and two full day sessions.   Participant numbers have been limited to improve the quality of this shoot.  Deposit is $200.
Swimming pool, hot tub, home cooked meals, and internet are part of the package.  Photographers are responsible for their own transportation.  Ranch is 42 miles west of Uvalde, Texas (about 90 minutes from the San Antonio airport).  I will send specific directions a few weeks before the shoot.
To register, contact me at: lditto@larryditto.com or 956-330-2114
_________________________________________________________
Lucifer Hummingbirds Photography, May 8-10 (Mon-Wed).
_________________________________________________________________________
On Monday, photograph Lucifer Hummingbirds and other birds at the Christmas Mountains Oasis approximately 80 miles south of Alpine, Texas.  I will provide instruction and one or two setups with high speed flash and artificial background to get stop action images of hummingbirds in flight.  The site is one of only two or three nesting areas in the U.S. for Lucifer Hummingbirds.   Photographers can stand or sit near feeders or at the flash setup (on a rotating basis) or stroll about the habitat in search of avian photo subjects.
Tuesday we drive to Alpine for supplies and on to the Crow's Nest Ranch in the Davis Mountains for an afternoon of photography at feeders for various hummingbirds including black-chinned and rufous hummingbirds.  We overnight there.
Wednesday, drive to higher elevations in the Davis Mountains for a day of shooting at feeders where magnificent, broad-billed, calliope, rufous and more hummingbirds frequent during the August migration.
The group will overnight again at the Crow's Nest Ranch, get in a morning of photography on Thursday and conclude around 11:00 AM.
*Limited to 8 photographers
(just 3 slots remain open as of 5/26/2017).
Email me to get registered and I'll send you more details and directions.  Also, more info is available at www.fortdavis.com.
Rate:
$799 total for expert instruction, access to high speed flash setup at the Christmas Mountains Oasis, two days at the Crow's Nest Ranch and higher elevations in the Davis Mountains.
Photographers provide their own rooms, meals and transportation.
Equipment required: digital camera with medium to large autofocus telephoto lens (no pocket cameras or cameras with fixed lenses), tripod with ball or gimbal type head, your own flash or a pop-up  flash.
Contact me at lditto@larryditto.com to register.  I'll send you a better description of the photography,  directions on how to make your room reservations, and maps or directions to the sites.