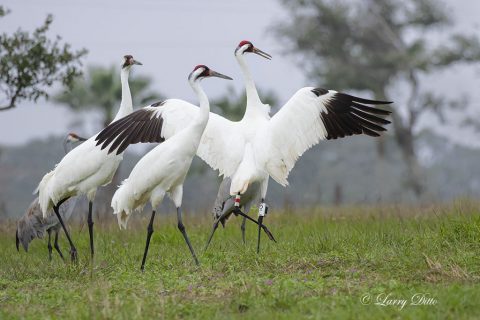 Click here to read: Tour Information and Deposit and Cancellation Policy.
 Larry Ditto Nature Photography
Instructional Nature Photo Tours 2021 Schedule at a Glance
To register for an IPT or Workshop, email me at:
lditto@larryditto.com
 and declare the specific activity you want to attend.  I'll get you signed up.
—————————————————————————–
Whooping Cranes, Rockport, Texas
Thursday – Saturday, February 25-27, 2021
—COVID 19— 
whooping cranes, pelicans, American oystercatchers, and various other water birds.
————————————————————————
Galveston FeatherFest:  Pre-festival Colonial Bird Rookery Photo Trip at Rockport, Texas
Dates to be posted by December 1 on the FeatherFest.com website. Our trip will be on  April 13-14, 2021
Photograph Great Blue Herons, Roseate Spoonbills, Reddish Egrets and various other colonial nesters from the deck of a large boat.
_______________________________________________________________
Block Creek Natural Area, Comfort, Texas ; 
April 28-May 1 (Wed PM -Sat AM), 2021
Full: Can add you to wait list
May 19-22 (Wed PM-Sat AM), 2021
Anticipate seeing painted buntings, vermilion flycatcher, wild turkey, lots of hummingbirds and more.
Davis Mountains Hummingbird Celebration Pre-festival Hummingbird Photography – August 16-18, 2021
Photography at hummingbird feeders with natural light and with one or two sets of high speed flash setups.   
* All tours are subject to change. Please check here and in the Newsletter for the latest information. Details will be e-mailed to participants approximately 30 days before tour.
Photo Tour details below!
______________________________________________________________
               ________________________________________________________________
Whooping Cranes, Rockport, Texas 
**CANCELLED **
Thursday – Saturday, February  25-27, 2021
Photograph endangered Whooping Cranes from a charter boat with an experienced captain/guide. Our boat is flat-bottomed (ideal for tripods) and can get you in close for those eye level photos.
When the birds are feeding close to the waterway, our captain will maneuver the boat to the best photo position without disturbing the 5′ tall birds. In most years, we also get excellent chances at American oystercatcher, brown pelican, osprey and other birds. We photograph the cranes in the morning, then work birds and harbor scenes in the Rockport-Fulton area during the afternoon.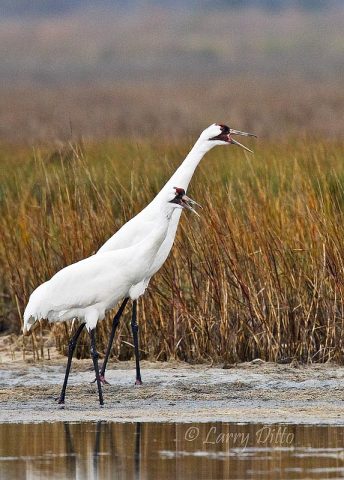 Capacity:
5 photographers (minimum 3)
 DEPOSIT: $200 due upon registration. Balance due 30 days before photo tour.
Rates:
$600 per photographer plus approximately $300/photographer ($100/day) for your share of boat and guide expense on each of three mornings when tour is full. Participants are also responsible for their own transportation, lodging, meals and park entry fees.  If we have less than 5  photographers, the registrants must split equally the $500/day boat rental.
I will stay at the La Quinta Hotel or Hampton Inn, but there is a variety of options.  All are close enough for us to easily reach restaurants and our boat marina as a convoy.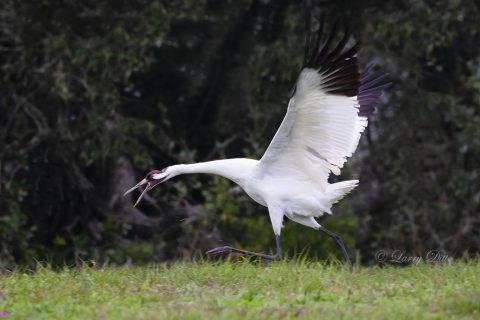 Contact me to register at: lditto@larryditto.com or 956-330-2114
____________________________________________________________
FeatherFest.com: Colonial Bird Rookery Photo Tour
Rockport, Texas, Tuesday & Wednesday (April 13 & 14, 2021).  Register through FeatherFest.com.  Their website will be open around December 1, 2020.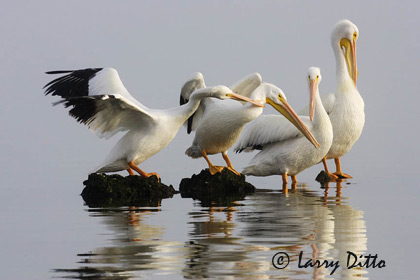 This is a pre-FeatherFest photography tour to photograph colonial nesting birds from a chartered boat with an experienced captain and a professional photo guide.  We will be on the boat both mornings from dawn until near mid-day.  Roseate Spoonbills, Great Egrets, Snowy Egrets, Reddish Egrets, Great Blue Herons, Tricolored Herons and several other species nest at our photo site, so we anticipate excellent opportunities for flying and perched subjects within range of most telephoto lenses (400 mm or larger lenses will provide best results).
On Tuesday afternoon, we will visit other Rockport area locations to search for other photo opportunities that could include various nesting and migrating birds and landscapes at the harbor and nearby fishing piers.
This one fills quickly, so sign up as soon as possible. 
FeatherFest Directors will set fees by December, 2020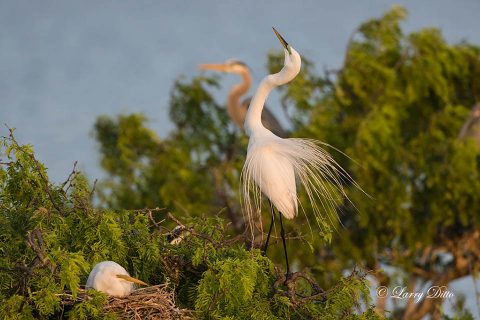 *** Register at www.FeatherFest.com after December 1.  Registration, boat rental and photo guide fees will be included in the package price.
___________________________________________________________________
Block Creek Natural Area, Comfort, Texas  – Wednesday – Saturday, April 28 – May 1, 2021 
Full: Can add you to wait list
Second Block Creek Natural Area Session
Wed-Sat., May 19-22. 2021
 Photograph birds and landscapes for 3 days (2 half days and 2 full days) at the beautiful Block Creek Natural Area.   Accommodations are on the area at the home and cottages of Sharron and Larry Jay.  First rate photography blinds are near the headquarters and feature a colorful variety of Texas hill country birds.  Painted bunting, vermilion flycatcher, eastern bluebird, summer tanager, and black-chinned hummingbird are often seen.  A number of landscape opportunities will be available along Block Creek and in the vicinity of the natural area. *One morning will be spent photographing hawks and owls presented by Last Chance Forever bird rescue team.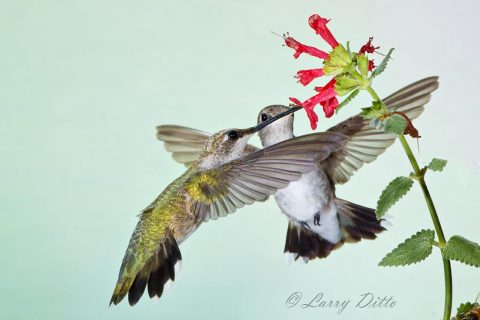 I will prepare my hummingbird setup to allow the photographers to work with high-speed flash to capture "wing-freezing" shots of black-chinned hummingbirds feeding at flowers.
Cost:
  $475/day/person (includes the workshop, lodging, meals, ranch and photo blind access for three days) .  If  Last Chance Forever raptor photography photo session is available, there will be an additional one time $50 charge.   We will have access to a meeting room with projector, as well.  Room and board outside the natural area is too far to be practical.  Plan to arrive at 3:00 PM the afternoon of the 28th.   I'll get you in a photo blind and then we will have a great supper with the group.  This will allow time for orientation and getting acquainted.  Departure is by 11:00 AM on the forth day of the tour after breakfast and some early morning photography.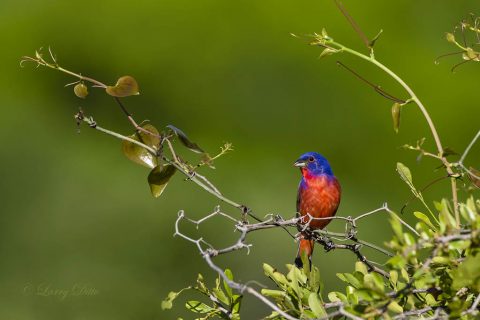 Painted Bunting, male perched in green briar vine.
Capacity:
 5 photographers
A $200 deposit is due upon registration.  The balance ($1275) is due by March 15.
___________________________________________________________________________
 *Limited to 10 photographers
Email me to get registered and I'll send you more details and directions.  Also, more info is available at www.fortdavis.com.
Rate:
$925 total for expert instruction, access to high speed flash setup and numerous feeders with a good variety of birds on private land.
Photographers provide their own rooms, meals and transportation.
Equipment required: digital camera with medium to large autofocus telephoto lens (no pocket cameras or cameras with fixed lenses), tripod with ball or gimbal type head, your own flash or a pop-up  flash.
Contact me at lditto@larryditto.com to register.  I'll send you a better description of the photography,  directions on how to make your room reservations, and maps or directions to the sites.