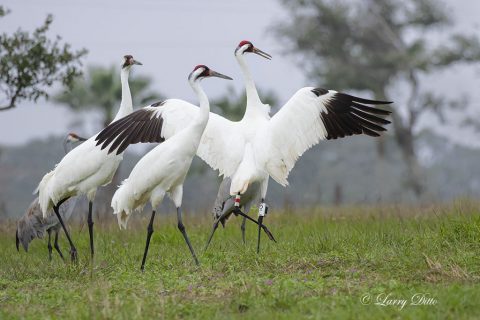 Click here to read: Tour Information and Deposit and Cancellation Policy.
 Larry Ditto Nature Photography
Instructional Photo Tours (IPT) 2022 Schedule at a Glance
To register for an IPT or Workshop, email me at:
lditto@larryditto.com
and declare the specific activity you want to attend.  I'll get you registered.
————————————————————————————-
Galveston FeatherFest:  Pre-festival Colonial Bird Rookery Photo Trip at Rockport, Texas
Registration instructions to be posted on or soon after December 1 at the FeatherFest.com website. Our trip will be on April 19-20 (Tuesday
and Wednesday), 2022.  Photograph Great Blue Herons, Roseate Spoonbills, Reddish Egrets and various other colonial nesters from the deck of a large boat.
_______________________________________________________________
Block Creek Natural Area, April 23-26, 2022, near Comfort, Texas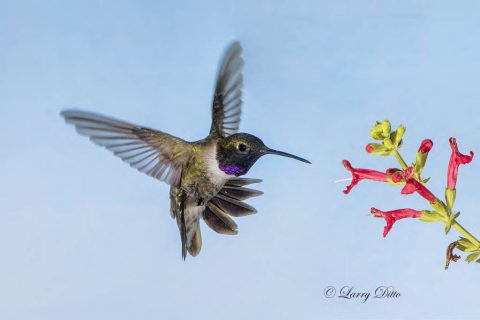 Black-chinned Hummingbird male feeding.
For three days, we will be photographing some of the Natural Area's more common subjects like hawks, owls, hummingbirds, painted buntings, Canada geese, wild turkeys, butterflies, landscapes and more. 
_______________________________________________________________________________
Caddo Lake, Texas Birds and Landscapes, April 30 – May 2 and May 8-10 from a large tour boat with experienced captain.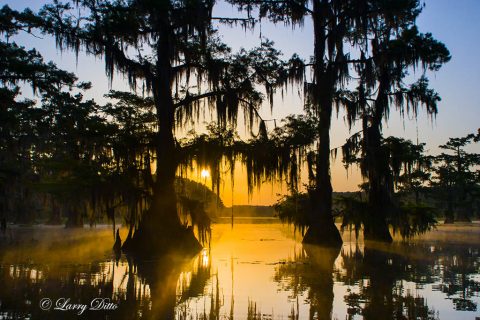 Photograph from flat-bottomed boat with 7 other photographers during early mornings and late afternoons.  We will be looking for Prothonotary Warbler, Northern Parula and Yellow-throated @Warbler, Pileated Woodpecker, various buntings and tanagers, Barred Owls and more. 
___________________________________________________________________________
Davis Mountains Hummingbird Instructional  Photo Tour (IPT) – August 22-24, 2022.
Photography near hummingbird feeders with natural light and on-camera flash.   
* All tours are subject to change. Please check here and in the Newsletter for the latest information. Details will be e-mailed to participants approximately 30 days before tour.
   _

___________________________ Trip Details ______________________________
This is a pre-FeatherFest  tour to photograph colonial nesting birds from a chartered boat with an experienced captain and a professional photo guide.  We will be on the boat both mornings from dawn until near mid-day.  Roseate Spoonbills, Great Egrets, Snowy Egrets, Reddish Egrets, Great Blue Herons, Tricolored Herons and several other species nest near our photo site, so we anticipate excellent opportunities for flying and perched subjects within range of most telephoto lenses (400 mm or larger lenses will provide best results).
On Tuesday afternoon, we will visit other Rockport area locations to search for other opportunities that could include various nesting and migrating birds and landscapes at the harbor and nearby fishing piers.  The photo tour ends at noon on Wednesday to allow time for participants to drive back to Galveston that afternoon.
This one fills quickly, so sign up as soon as possible. 
FeatherFest Directors will set fees and trip description by January , 2022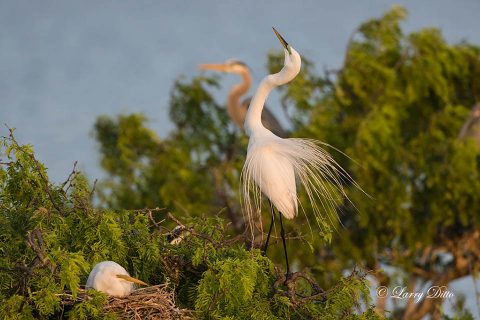 *** Register at www.FeatherFest.com after December 1.  Registration, boat rental and photo guide fees will be included in the package price.
_____________________________________________________________________________
Block Creek Natural Area Instructional Photo Tour,  3 PM Saturday April 23 to 11 AM Tuesday April 26, 2022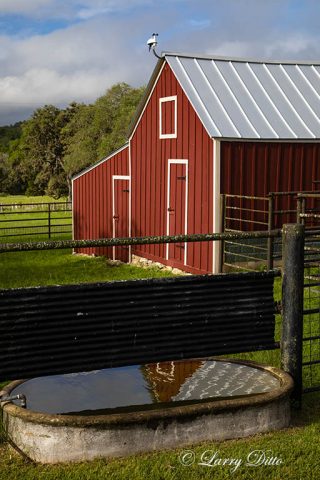 Limit: 6 photographers
Deposit Due: $300 upon registration and balance due on April 1, 2022.
Your fee will cover room, meals, snacks, experienced photo guide and the ranch owner's assistance getting to and from the blinds.  Normally, there are at least 100 hummingbirds (mostly Black-chinned Hummingbirds) working a dozen or more feeders on the porch and in the back yard.  An extensive flower garden around the ranch house is a good location to photograph birds and butterflies, as well.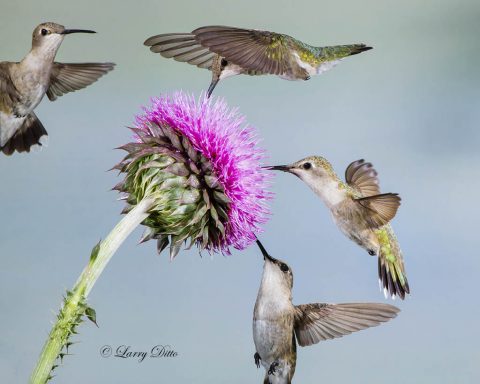 Five blinds and a shaded platform with seats in the flower garden are available.  Everyone will have assistance getting to and from the blinds with their equipment.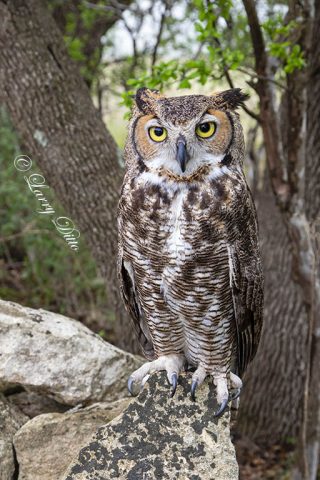 Your fee also includes a two hour photo session with Last Chance Forever, a raptor recovery team that will show some of the birds they  care for.  Sessions include an opportunity to photograph the birds (hawks and owls) perched up close and in natural habitat.  Since one or two birds can fly, you may be able to get some excellent flight shots.
The full cost of this Photo Tour is  $1580.  I will send you a complete instruction letter about one month before the photo tour begins.  It contains a list of things you will need, directions to the site, and other necessary information.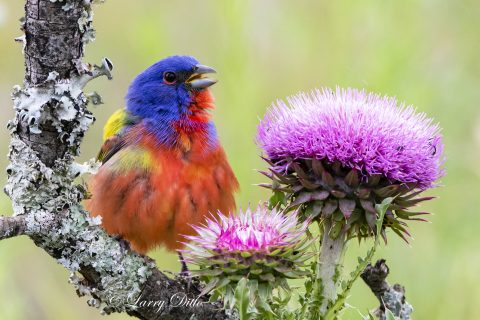 ______________________________________________________________________________
Caddo Lake, Texas Instructional Photo Tours, April 30 – May 2 and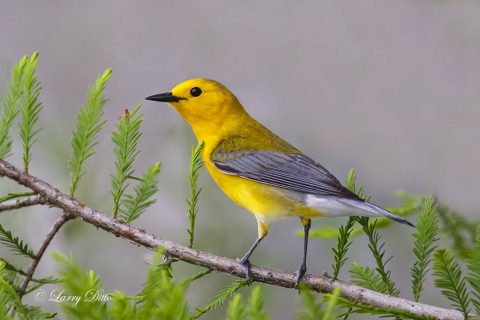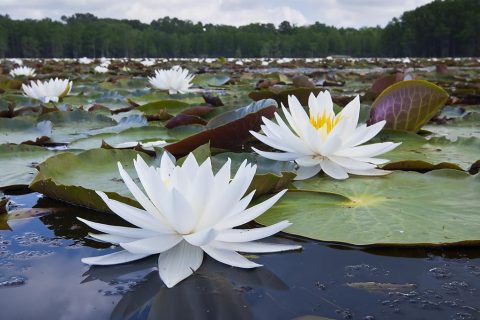 Deposit: $300 is due upon registration and the balance is due 30 days before trip begins.
We will photograph on the lake from a large pontoon boat with seats and stable deck and room for tripods.  The captain knows the lake's geography and history and has a good knowledge of where to find the birds and how get them close for photos.  Each day will include some  nice landscape opportunities around sunrise and sunset.  Photographers will be on the boat approximately 3 hours each morning and 3 hours each evening photographing.
The cost of this instructional photo tour is $1,170 which includes the boat, captain and professional photography guide.  Everyone will be responsible for their own transportation, room and meals and other necessities.  I will send you a detailed list of instructions and suggestions for the trip approximately one month before the photo tour.
  ___________________________________________________________________
 *Limited to 10 photographers
Email me to get registered and I'll send you more details and directions.  Also, more info is available at www.fortdavis.com.
Rate:
Deposit: $300 due upon registration and balance due August 1, 2022.
$950
 total for expert instruction and  private land photo locations close to numerous feeders with a good variety of birds…often as many as 6 species of hummingbirds are photographed during the 3 day shoot.
Photographers provide their own rooms, meals and transportation.  Rustic rooms, trailer hookups and camping sites are available nearby at the www.crowsnestranch.com.  A few hotels and cafes are available in Fort Davis, but you should make your motel reservations well in advance.
Equipment required: digital camera with medium to large autofocus telephoto lens (no pocket cameras or cameras with fixed lenses), tripod with ball or gimbal type head, your own flash or a pop-up  flash.
Contact me at lditto@larryditto.com to register.  I'll send you a better description of the photography,  directions on how to make your room reservations, and maps or directions to the sites.
Hope to see you there!