I made 6 trips for whooping cranes this month and had sunlight two mornings.  The birds were always there, but the warm light of sunrise was missing.  Those of you who were with me know what a big difference that made in bird activity and photo quality.
All of our time during the whooping crane trips was dedicated to bird photography.  That was a departure from the norm, as we usually work on landscapes around the harbors and fishing piers in the afternoons.  Frankly, I missed shooting the colorful boats, harbor reflections and fog that can produce wonderful shots, but the weather kept us from getting the landscape opportunities we wanted.
I made a morning trip out to South Padre Island in late January and happily encountered a light morning fog  and very little wind.  The birds were there in good variety although ducks numbers were lower than usual.  I've incorporated some of those shots with photos from our last whooping crane trip to give you a summary of my late January outings.
Click on a photo to make it larger and produce a sharper image for better viewing.  There is a hidden "next" button in the upper, right hand area of each photo, too.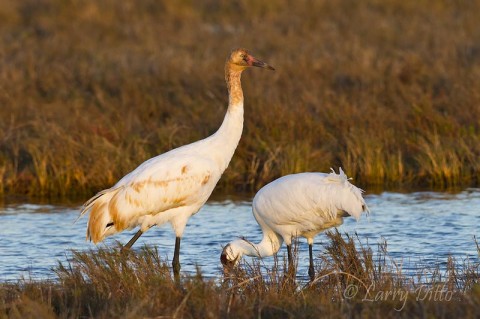 The whooping crane above was returning to its mate and young after chasing away another pair that had ventured too closely to this bird's winter feeding territory.
All the whooping cranes photos were taken with a Canon 7D camera, 500 mm IS lens and 1.4X teleconverter mounted on a Gitzo 1358 tripod with Wimberley head.  They were shot from a boat with the engine turned off.  Even though temperatures were relatively cold, heat waves made it impossible to photograph the cranes after 10:00 AM on sunny mornings when the focus distance was more than about 120 feet.
I can read body language in many birds and I can anticipate when they are going to stretch, fly or just go to sleep.  Nevertheless, it is always hard for me to "pull back" or reduce the telephoto power in order to capture those long wings when a bird stretches.   On this occasion, however, I did manage to alert the workshop group and remove the teleconverter from my lens in time to capture this wonderful pose of an American oystercatcher.  Oystercatchers are almost always located and photographed during the whooping crane trips.
The whooping cranes vocalized more this year than usual, and we had more roseate spoonbills than in any of the six years I've been leading these trips.