Since my last newsletter, the whooping crane instructional photo tour has filled and we need two or three more photographers for a second tour on Thursday and Friday, January 12-13.  If you can go, give me a call or email.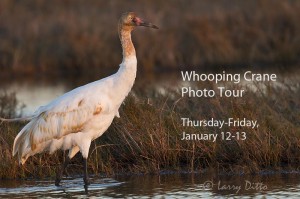 As you can see by the photo above, we get pretty close to these extremely rare birds during most of our tours.
There will be other bird and landscape photography opportunities during the whooping crane photo tours. Great blue herons, various warblers, brown pelicans, long-billed curlews, American oystercatchers, osprey and other birds are some of our more common photo subjects when we aren't photographing whoopers.
Last week, I spent a few days in Wichita Falls with relatives.  That gave me some time to work on backyard birds like blue jays, cardinals and sparrows.  I simply had to prepare a natural looking set that included a nice stump, a vine, and some oak leaves with autumn color thrown in for good measure.  Within 10 minutes, the birds were arriving and I spent much of two afternoons shooting.
Low, heavy clouds and rain hampered my efforts a little, but the fill flash helped boost the colors and give the birds some "eye shine".  Here are several samples of what I got.
I tried shooting with a blooming rose bush in the background, but the red flower was a bit much, so it was removed for most of the shooting.