It has been a busy spring with almost no time produce a newsletter.  But, at long last, here I am at the computer.
I've been leading workshops and giving talks at nature festivals through April.  Along the way, I met some great people and I've had some great photo opportunities.  The unusually cloudy, rainy weather certainly hurt the lesser prairie chicken photo tour, but that was just bad luck.   The panhandle is almost always clear  in the spring.  On the way up, we had clam, sunny days and photographed wildflowers in the Texas hill country.  It was a great year for bluebonnets.  Along the coast, it looks like we won't get a songbird migration "fallout" because late season cold fronts just aren't making it this far south.  So, what else is new, eh, the Texas weather always keeps us guessing.
Let me show you a few shots from the various April trips.  I'm thinking these will make you want to photograph Texas in the spring.  .  Just click on the photo to make it larger and sharper.  Then, you can advance by clicking at the upper right portion of each photo.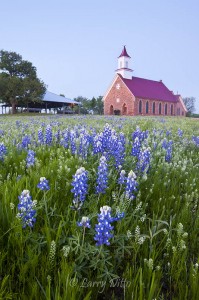 The image above was shot from just above the bluebonnets at f 22 with the 16-35 mm lens and Canon EOS Mark III camera on a tripod.  I tilted the camera sharply downward and used a cable release to trip the shutter.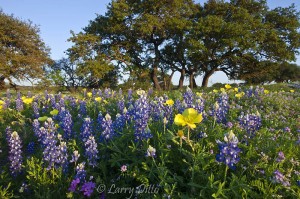 The photo above was done at ground level (very tough on the photographer's neck) just as the sun was setting.  Again, I used the super wide angle lens for this shot.  All my daylight landscape shots were done with a polarizer attached and rotated enough to distribute the darkening effect on the sky.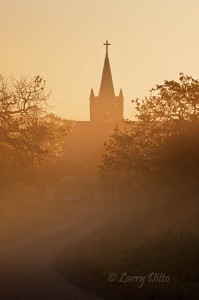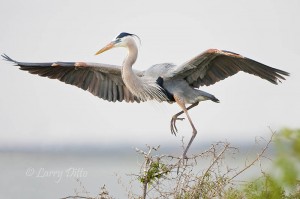 I captured this Great Blue Heron in breeding plumage just as it touched down on a perch.  For most of my bird shots, including this one,  I use the Canon 7D and Canon 500 mm lens and try to capture action.  I was using the center focusing point in the viewfinder to insure I got the bird in sharp focus.  With multi-point focusing screens, focus tends to jump to the background, but it works well for birds with sky background.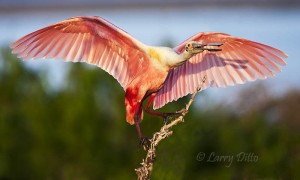 I couldn't resist showing you this shot with the Roseate Spoonbill's shadow on his wing.  It really helps when you can capture something a little out of the ordinary in your nature shots.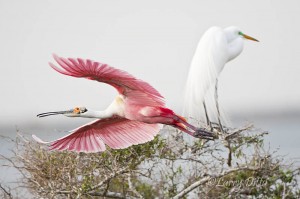 The sweep of the spoonbill's wings makes this shot exciting to me.  Obviously, the Great Egret was NOT impressed.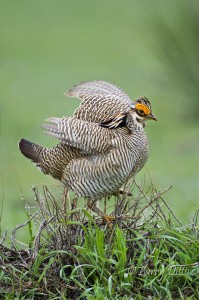 Under the dark clouds, I had to do this shot at ISO 1000 to get a shutter speed of 1/400 second.  Thanks to Adobe Camera RAW's  great noise reduction slider, I was able to eliminate most of the noise in this one.  For the flight shot below, I used ISO 1250 to get a shutter speed of 1/1250 to almost stop the bird's motion.  It's not tack sharp, but close.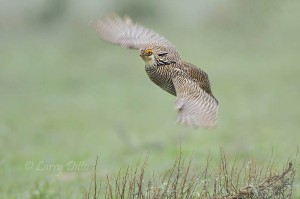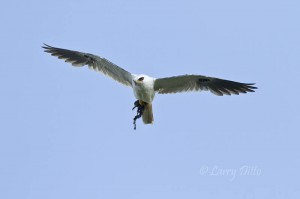 During Galveston's FeatherFest, I spent every day leading talks and photo tours.  Most of the time, I never got my camera out of the bag, but on the last morning I was lucky enough to do some shooting with the group.  We all got some nice flight shots of White-tailed Kites.  Of course, we were successful because we remembered to add 1.5 f stops of light to what the camera's meter was telling us.  * When shooting into blue skies, add light.
Since we weren't lucky enough to catch some migrating songbirds on this morning, I shot plants along the nature trail on Galveston Island.  This is one of the reasons we don't bother the plants along the edges of hiking trails.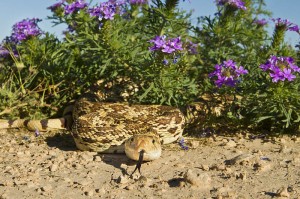 For the last two springs, I've led a photography workshop at the Hoak Ranch near Ozona, Texas.  It was tons of fun…we concentrated on light painting and star trails.  There were lots of nice cacti in bloom and a few reptiles that added to the interest of this west Texas setting.  The bull snake above was photographed with the 16-35 mm wide angle lens at a distance of about 6 inches.  The tongue makes the shot.  Again, the photographer has to be willing to go prone for shots like this.  It's tough on the neck but the results are much nicer than shots done from above.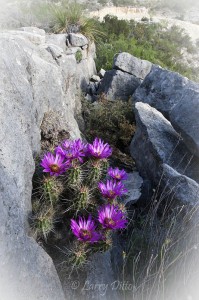 I used the vignetting tool in ACR to help focus the viewers' attention on the Pitaya Cactus growing from a ledge on the Hoak Ranch.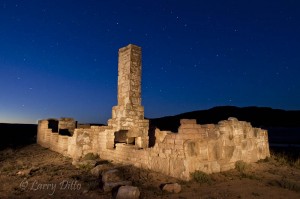 The shot above was a test shot for the star trail photograph that was to follow.  * Just for fun, you should try helping 8 photographers set up, after dark, for a star trail shot.  In spite of the high stress it placed on the workshop leader, the one hour exposure below is what everyone got.  I've never seen a happier group than ours when they finally got a chance to see a real star trail captured in their own cameras.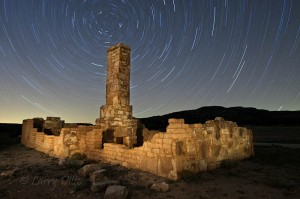 I hope you like this little collection of photos from a very busy spring in Texas.  If you have time for a last minute trip, join me next week on Wednesday – Friday morning at Caddo Lake, Texas for two and half day of great bird and landscape photography.  There have been two cancellations in the last week which opened these slots.  Just drop me an email and I'll get the details to you immediately.  This is your chance to get the yellow-throated warbler, prothonotary warbler, norther parula warbler, summer tanager, and a bunch more.
Finally, there are still two places left for the Block Creek Natural Area workshop on Friday-Sunday, May 11-13.  We will be photographing painted buntings, vermilion flycatchers and more on that one.  Check this web site for other details and contact me at lditto@larryditto.com if you are interested.  We will enjoy very nice accommodations and food on that Texas hill country shoot!
Thanks to all of you for checking in,
Larry