*** I am selling my Canon 500 mm Image Stabilized lens.  The new ones have a recommended retail price of $8,400.  As you know my used one takes a mean photo and you can have it for $4,500,  Contact me if you are looking for a lens.  It comes with the neopreme, camoflage cover plus that incredible Canon case and lens cover.
 Click in the upper right area of a photo to make it open in a larger, sharper format.  Then you can advance through them like a slide show.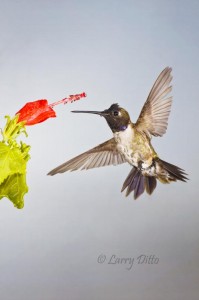 In less than 90 days, I will be hosting a hummingbird photography workshop at the Barnhart Ranch and Nature Retreat between Beeville and Goliad, Texas.  Last fall, hummers were swarming at the ranch in late September, so we are counting on a repeat performance.  If you haven't done hummingbirds with 5 high-speed flashes, you haven't really done hummingbirds.  We will be capturing their crazy antics and in-flight hijinx at about 1/16,000 of a second.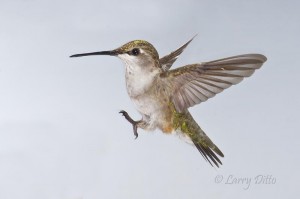 If you want to join me for the hummingbird workshop, just click on my website (www.larryditto.com), then click on "photo tours" and check out the details.  Of course, you can skip that part and email me.  I will send you some details for the September 23-23 workshop.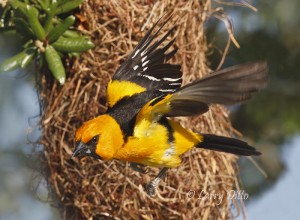 These oriole photos were shot from atop a scaffold about 10′ off the ground using a Canon 1D Mark III camera, 500 mm IS Canon lens mounted on a Wimberley head atop a Carbon Fiber Gitzo tripod.  On the flight shot, I prefocused a foot in front of the nest and shot at about 1/2000 second to capture the bird in focus as if flew away from the nest.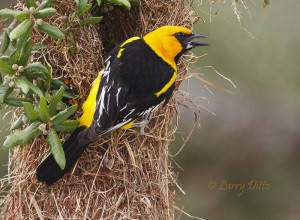 For the oriole perch shot, I used a little fill flash set at -2 2/3 f stops of power on a Canon flash with a "Better Beamer" attached.
Besides orioles, I've been shooting at the Santa Clara Ranch photography blinds.  You will note the stark appearance of the backgrounds; until this week, it had only rained .1″ in the last three months.  The brush had shed its leaves to conserve water.  In recent days, the ranch has had a 1″ rain and more is falling today, so the brush will be green and blooming for awhile.  Here are some recent wildlife shots from the Santa Clara:
It takes a lot of shots to get birds landing with the wings spread and everything in focus.  This photo was done with a 500 mm lens, but something with less telephoto power works better so that you can have some cropping space around the bird.  I prefocused on the perch and began shooting at 10 frames/second as the bird approached.