A few days ago, I spent a Saturday afternoon at the Santa Clara Photography Ranch with owner, Dr. Alberto Gutierrez, and friends Randall Ennis and Terry Guthrie.  Photography was a little slow that afternoon, so I came back for a couple of hours on Monday morning.  Each trip yielded some keeper images; I'm sharing 4 of them with you in this newsletter.  Later that week, I guided photographer Gary Kramer on the Ramirez Ranch at Roma, Texas where we wanted to get plain chachalacas and other birds.
I'm still trying to catch up with editing several thousand photos from Galveston Feather Fest, Block Creek Natural Area, Transition Photography Ranch, South Padre Island, Rockport spring nesting birds, an Arizona bird photography workshop and shots from the Laguna Seca Photography Ranch.  I'll be posting images from those shoots in coming editions of this newsletter.
Please send along your comments and ideas if you wish.  If you will click on the image, it will enlarge and sharpen.  Advance through the slide show by clicking on the right edge of each image.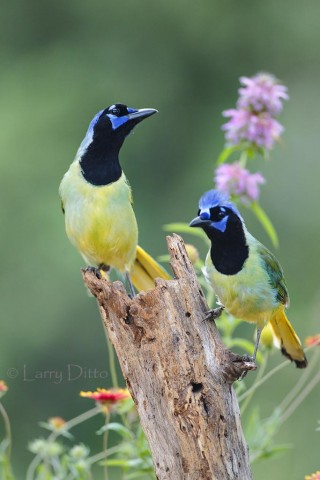 These green jays were captured on a stormy morning at the Roel Ramirez Ranch near Roma, Texas with the Canon 7d Mark II and 500 mm IS lens at ISO 800, 1/200 second @ f4 in aperture priority.  Within minutes of this capture, my shutter speed declined to 1/15 second as a rapidly approaching thunderstorm forced  us to abandon the ranch for photo blind.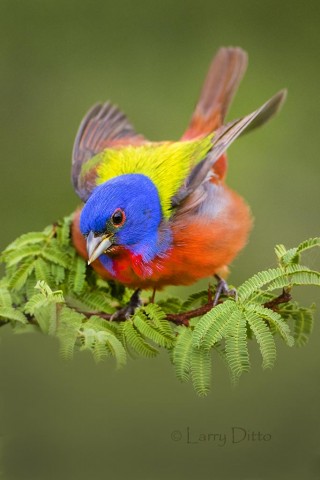 This painted bunting was taken with the Canon 7D Mark II camera and 500 mm IS lens from the car window just after sunrise.  ISO 800, 1/2000 second @ f 5.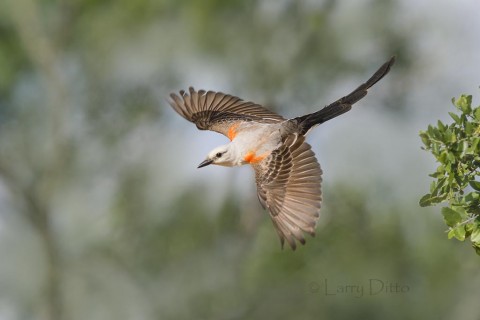 I got this shot by anticipating the flight path of the flycatcher and pre-focusing to get the bird just as it flew from its perch to the water.  Quick reflexes and the ability to read the bird's body language helped me get this photo with the Canon 7d Mark II and Canon 70-200 mm lens with 1.4X teleconverter at ISO 400, 1/3200 second @ f 5 (hand held).  I try to keep a camera and zoom lens handy in case something large or very close appears that precludes using the 500 mm lens.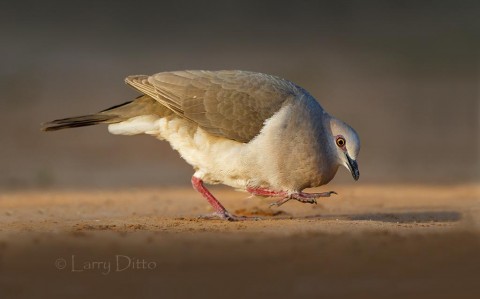 As the sun was setting, I captured this image with the Canon 7D Mark II and 500 mm lens from a Wimberley head and Feisol tripod at ground level at ISO 500, 1/1000 second @ f5.
I'm always looking for behavior and/or action to make the image more interesting.  Warm evening or morning light helps a bunch, too.
Keep watching for more Spring images soon.
Larry