Roadrunners and most of the other wildlife were hanging around the water hole last week when the thermometer hit 102 in the afternoon.  At Santa Clara Ranch, Beto Gutierrez and I sat at blind #3 and photographed thirsty wildlife during the last three hours of light on July 20.  Many birds still looked good (not too much molting, yet).  The roadrunners were nailing grasshoppers and one little Mexican ground-squirrel had a hopper, too.
A good variety of wildlife was drinking, including bobwhite quail, cardinals, cowbirds, hawks, cuckoos, roadrunners, cottontail rabbits, black-throated sparrows, woodpeckers, mockingbirds and painted buntings.  I left my flash at home…big mistake.  Beto was popping the flash and getting good action (raised wings and takeoffs) from many birds.
It has been so hot, I've stayed indoors most of July, but maybe I'll get myself out to the Laguna Madre for a little kayaking, soon.  I might even try finding a whitetail fawn or two later this week.  A Brownsville friend, Stephen Sinclair, has been doing quite well at South Padre Island, Sabal Palm Sanctuary and Laguna Atascosa National Wildlife Refuge.  Steve is serious about nature photography and tries to shoot every day.
Ok, here are a few shots from waterhole #3: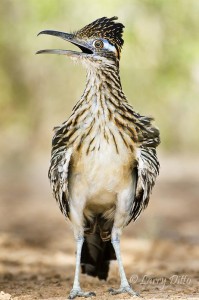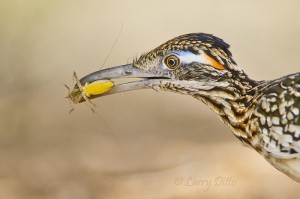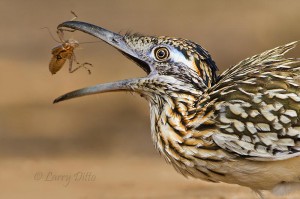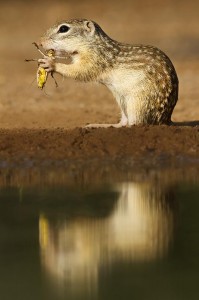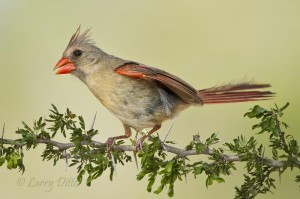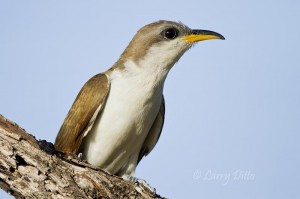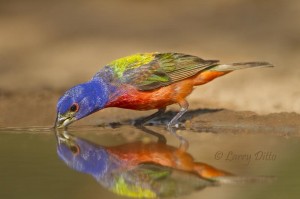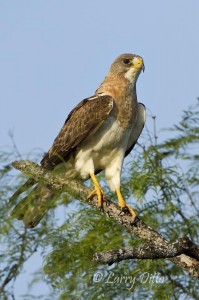 When working at blinds with permanent ponds, photographers have to decide whether they will leave everything natural or set up perches for songbirds.  We elected to set out a small tripod to hold a fresh tree branch for songbirds.  This wary Swainson's Hawk spotted it and eventually flew off without a drink.  I wonder what would have made the best photo, my 10,000th cardinal shot or a nice pose of a bathing hawk????  Consolation: little, the cardinals certainly gave us more action on this day.
Larry