The unusually hot spring weather had me worried for a while.  Migrating birds seemed to arrive earlier and there were no real "fall outs" along the coast this spring.  From east Texas to the panhandle, nesting was earlier than usual.   Activity at many of the photo ranches was slower than normal, but things weren't quiet.  I just had to keep plugging away and finding ways to locate the wildlife.
For a change of pace, I skipped shooting at South Padre Island this spring.   After heading up to Caddo Lake for the usual workshop during the first week of May, I went to the hill country and shot at the Block Creek Natural Area near Comfort.  Before Caddo Lake, I had the opportunity to photograph an ocelot one morning here in south Texas.
In this newsletter, you will see some images of the endangered cat.  Then, we'll view a sampling of wildlife from Block Creek.  Next week, the Caddo Lake workshop images will be ready for viewing.
Click in the upper right portion of each photo to make it larger and sharper for viewing.  Then advance through the photographs by clicking on "next"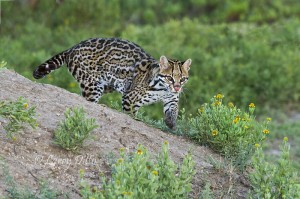 These ocelot shots were captured as the sun was rising on the lower Texas coast.  Canon 7D camera, Canon 100-400 mm IS lens, hand held, ISO 800, 1/320 second @ f 5.6.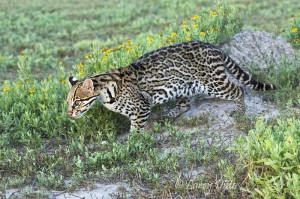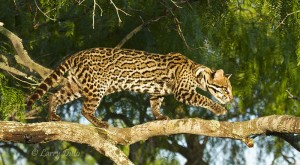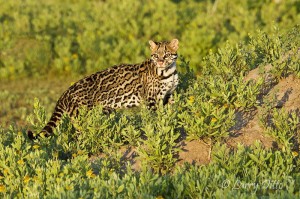 One of our most anticipated photo subjects at the Block Creek Natural Area was the painted bunting.  Unfortunately, they arrived early this year and were well into breeding when we arrived last weekend.  Fortunately, this bird came to a feeder at least twice each morning.  Getting him on a natural perch proved too difficult for us, so we settled for what we could get.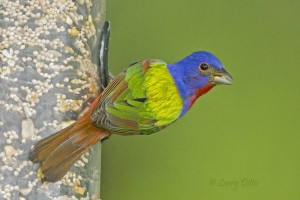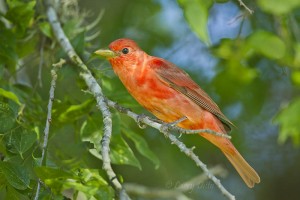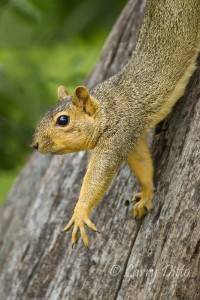 Squirrels, cottontails and deer were around the Block Creek Natural Area morning blind each day.  And, they were accustomed to the smell of humans and the whirr of cameras.  I kept the Canon EOS Mark III camera and the Canon 100-400 mm IS lens handy in case mammals approached.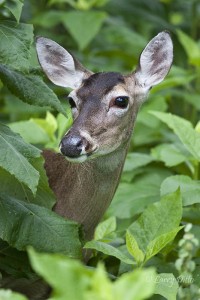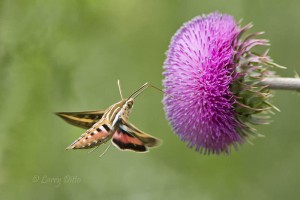 The last time I photographed white-lined sphinx moths was in 2001 when Greg Lasley encountered dozens of them feeding on bee balm west of Eden, Texas.  Normally, they aren't active until just around sundown, but this guy was feeding in mid-afternoon.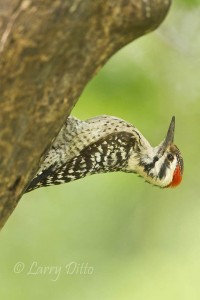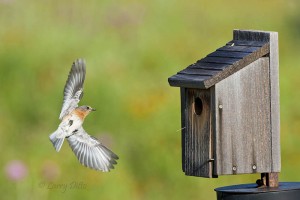 Mother Nature (God) favored us with good timing at the Block Creek Natural Area.  This pair of eastern bluebirds was just beginning to feed a second brood of the season, so we spent a couple of mornings trying to "shoot" the birds in flight as they arrived at and departed the nest box.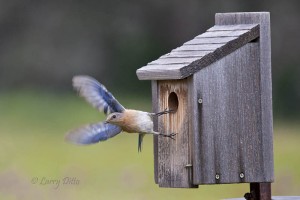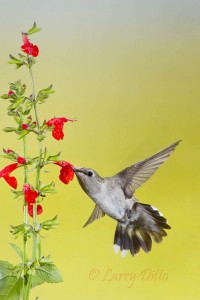 Our last two afternoons at Block Creek Natural Area were spent photographing hummingbirds with a high-speed flash setup on the back porch of the Bed & Breakfast.  The hummers were there by the dozens, so we had some fast and furious shooting.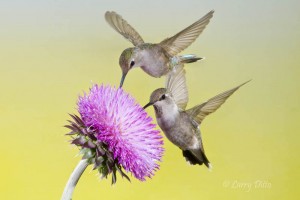 Plan to join me the last week of April in 2013 for a week at the Block Creek Natural Area.  The accommodations and food are outstanding and you can see the photo subjects aren't too shabby, either.
I am convinced, as was the apostle Paul when he wrote his letter to the church at Rome, that God's glory is obvious in what he created.  I've seen it in the painted bunting and the hummingbird and it is beyond description.
Larry