Photographers, the hummingbird photography workshop begins in seven weeks?  Did you know this is going to be a great opportunity for you to get some of the best bird photographs you could ever hope for?  Three slots are open and will be filled on a first come, first served basis.  When I get your deposit, you are officially booked for the workshop.  So, move on over to the photo tour schedule on this web site, read about the workshop, and email or call me to register.  I look forward to showing you how it is done.
The heat wave has driven a lot of us underground for most of the summer.  Although I've been chilling in front of the computer during most of June and July, I did get out last week to check on the fawn crop.  You probably know that white-tailed deer breed rather late in south Texas, so a lot of the fawns aren't born until June and July.  There were a lot of fawns out there on Friday morning, but it was so hot that the mamma deer are taking their babies to the shade about 20 minutes after the sun comes up.  Nevertheless, I got a few keeper shots to show you.  
Last year, I looked for fawns a little later in the summer and found some buck deer with nice, velvety antlers at the same time.  It has taken me a year to get around to working on those photos, so I have two batches of deer photographs to share with you this week.
Click on the right side of each photo to go from one photo to the next.  This also will cause the photos to open into a larger, sharper format.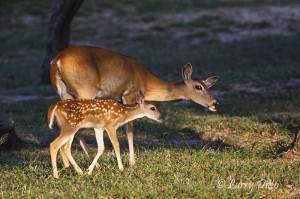 This doe was on her way to the shade just a few minutes after sunrise.  The photo was taken with a Canon 1D Mark III and Canon 100-400 mm lens from the window of my Durango.  
Being aware that the heat and high humidity could cause condensation on the lenses, I had reduced the amount of air conditioning in the car during my 90 minute drive to deer country.  Nevertheless, it wasn't enough.  My 500 mm lens was so fogged up, it was an hour before I got the glass clear enough to shoot.  You can guess where the deer were by then.  So, the lesson for all of us is that during the winter or summer, try to get the car or camera storage area as close to air temperature as possible  an hour or so before you plan to begin photographing.  Otherwise, you will only be able to watch from the sidelines while the glass returns to the ambient temperature.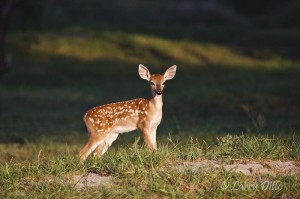 The little guy above had a lot of running he wanted to do before his mother took him to the shady woods for a nap.  Luckily, he decided to stop in front of me on a little rise with nice shadows in the background.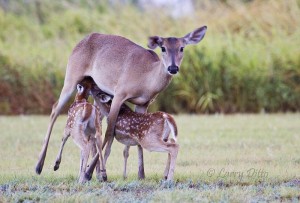 The fawns above were so eager to feed that they lifted mom right off the ground.  Any time you are photographing young animals, keep your finger on the shutter release because something interesting what will happen.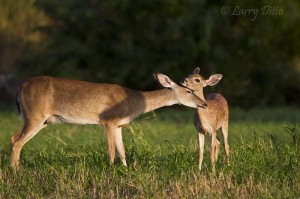 This fawn rested its chin on mom's head for a brief moment.  They may have been grooming each other or just fulfilling a need to touch.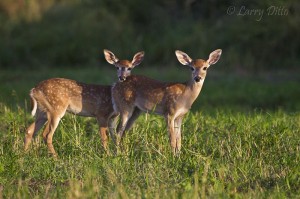 I hope you can tell by looking at some of the previous shots that they were taken from a low angle.  I was photographing while sitting on the ground to improve the perspective.  When you are doing wildlife photography, most of your photos will be more appealing if taken from a low angle; so wear old clothes you don't mind getting dirty or wet with morning dew.
A shot similar to this one was in a newsletter last year.  I wanted to show you several shots of fawns and this is one of my favorites (shot from the car window).  The photo was cropped to give us a better view of all four deer. 
A few years ago, I watched fawns at Aransas National Wildlife Refuge feeding on aquatic vegetation in two feet of water at an alligator infested pond.  The gators seemed to be cruising for bull frogs that day and the deer finished their feeding unharmed.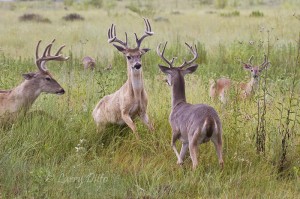 Both of these buck photos were taken last year, but I have seen some nice antler development this year, too.