My wife and I spent last week trying to stay warm while visiting her mother in Wichita Falls, Texas.  Being the tough guy that I am, I spent all day Wednesday photographing from Dottie's garage with the door open, no heat, and facing into that cold north wind.  About 2″ of snow fell the night before and the temperature hovered around 20 degrees all day…the wind chill was around 10 degrees.  On the brighter side, a good variety of birds were foraging about her neighborhood for any available food.  I pitched out some sunflower seeds and bread crumbs and the birds responded.  So, here is what you can get after a snow in north Texas (if you can bear the cold).
Click on the photo to make it expand and sharpen for better viewing.  Click in the upper right portion of the photo to advance to the next shot.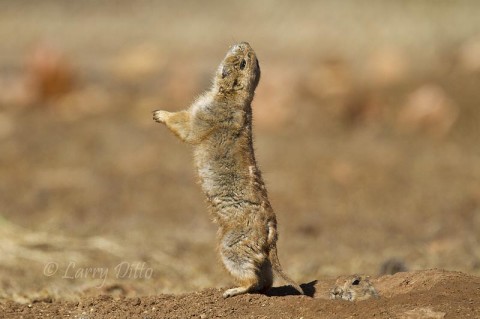 I found these prairie dogs (one is peaking out of the burrow) the day before the snow as they enjoyed the sunshine on a blustery, 30 degree day.  The "dogs" must have sensed that the following day would bring a blanket of snow, so they were quite active.  
This blue jay photo was my very first shot of the morning.  When I checked the camera's screen, I knew it would be a good day.
Dark-eyed Juncos seemed to be the most common birds visiting Wichita Falls during the cold spell.  These birds spend their summers in Canada and the northern U.S. and come our way when winter weather drives them south.
The rough bark on a cedar elm just outside the garage door must have been prime habitat for many forms of invertebrates because several species of birds,  including this Downy Woodpecker and a Red-breasted Nuthatch, spent hours feeding in it.