On Tuesday and Wednesday of this week, I took four other photographers to the Rockport-Fulton area of the Texas coast to photograph endangered whooping cranes on their wintering grounds at Aransas National Wildlife Refuge.  It's been a tough winter for the birds, even though there is a record number (over 300) of them in that area. 
With the severe drought conditions, blue crab (the cranes' preferred winter diet) production was almost nil this summer and fall.  Consequently, the birds were moving inland to feed in  burned areas where other food was more readily available.   We could see U.S. Fish and Wildlife Service fire crews conducting prescribed burns while we were photographing  (you will notice smoke in the background of some of the photos that follow).  Food resources in the burns help sustain the birds, but they make it mighty hard for photographers confined to boats in the waterways.  Nevertheless, we  got plenty of photo action and left with some pleasant memories.
Here are some shots from the whooping crane trip: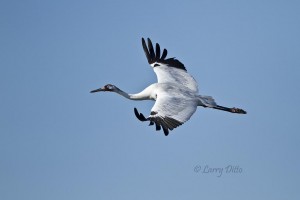 This is a series of flight shots taken under stressful circumstances for yours truly.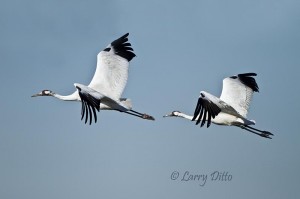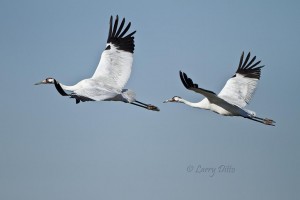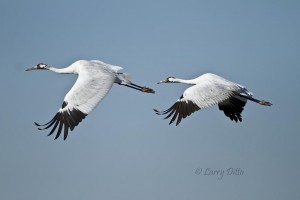 When I am leading a bird photography group, they depend on me to read the birds' body language to anticipate what will happen next.  In this case, the birds simply walked out of the water and took off…no craning of the necks or bugling.  I had the photographers alerted that something unusual was going to happen, but I didn't have time to get my own equipment adjusted for this series of flight shots. 
These shots were done at ISO 400,  1/8000 second @ f 4.  Each of the frame filling photos appears to have adequate depth of field, but I would have preferred something more like 1/2000 second @ f 11.   I was using my trusty Canon 7D camera shooting at 8 frames per second, a Canon IS 500 mm lens, Wimberley head and Gitzo 1348 cf tripod from the deck of a large boat.  Suspecting a take-off was eminent, I quickly removed a 1.4X teleconverter and remounted the lens.  There was no time to release all the tightened Wimberley knobs before the birds were in the air.  As a result, I had to lift camera, lens and tripod into the air as I swung and panned with the birds in flight…not an easy task, but I did it.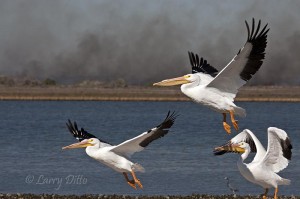 Both previous photos were made with the Canon 1D Mark III and Canon IS 100-400 mm lens hand held.  I keep this rig ready while shooting with the big lens because it allows me more versatility for flight shots and large birds/mammals.  I should have grabbed it for the whooping crane flight sequence.
Both harrier photos were made with the Canon 7D camera and Canon 500 mm lens, hand held to improve my ability to keep the bird in the view finder.
Announcing Change of Location for the April 4-6 Prairie Chicken Interpretive Photo Tour!
The April 4-6 Lesser Prairie Chicken Interpretive Photo Tour has been moved to Canadian, Texas.  We will have the most experienced prairie chicken photo guide available for this one, so don't miss it.  This shoot is limited to four photographers and two of the slots are already spoken for, so sign up quickly if you are serious about this trip.  More details will be available soon on my web site Photo Tour Schedule.
Watch for another Newsletter soon,
Larry