After a week in Big Bend National Park, I can't help but feel humility having been in the presence of so much natural beauty.  The desert was incredible and the weather, the landscapes, the wildlife and the camaradrie couldn't have been better.  Joe Zinn and I lead a 4 day instructional photo tour to west Texas that was spectacular.
We were stopped dead in our tracks (tire tracks) by a sow black bear with four cubs crossing the highway as we drove into the park's Chisos Mountains.  On our second night out, we almost collided with a white-nosed coati and a gray fox.  Obviously, it wasn't just the landscapes that left us inspired.  One of the park campgrounds had at least 4 pairs of vermilion flycatchers.
All of the following landscapes were photographed with a Canon 5D Mark II camera, Canon 16-35 and 24-105 mm lenses, polarizing filter, two stop neutral  intensity filter, cable release, Feisol ball head and Gitzo 1348 carbon fiber tripod.  For the bear and birds, I was using the Canon 1D Mark IV camera and Canon 500 mm lens.
So, take a photo tour with me and enjoy this small selection of photos that I think pretty much tell the story of our trip.
Our photography journey began with a walk to "The Window" in the Chisos Basin at Big Bend National Park for an incredible sunset.
Click on the upper right portion of a photo to make it larger and sharper for viewing.  From there, you can advance through the Big Bend photography.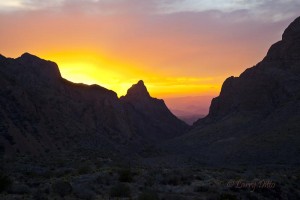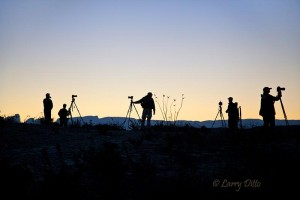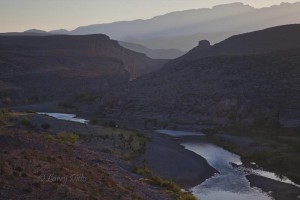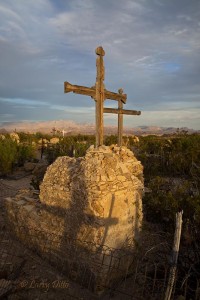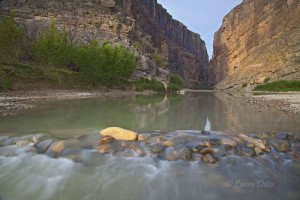 Everybody waded in to capture this shot below a small check-dam of rocks below Santa Elena Canyon at sunrise.   A shutter speed of less than one second give the  current a soft, foamy look.
While returning to the road from capturing the boulder shot above, I watched an incredible sunset over Santa Elena Canyon and a large prickly pear cactus.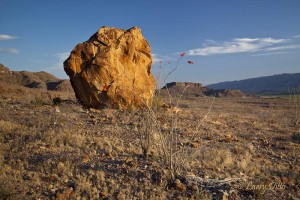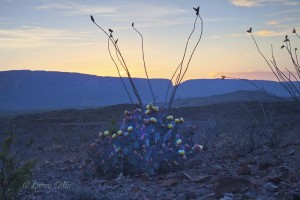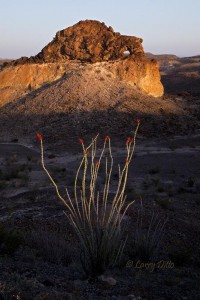 This rock looks more like a lion's head or the Sphinx than a keyhole, don't you think?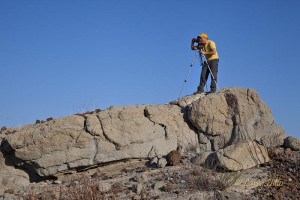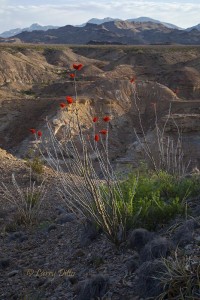 Near the park's west entrance, ocotillos guard the rim of a canyon that reminded me a lot of the painted desert with it's yellow and gray clay strata.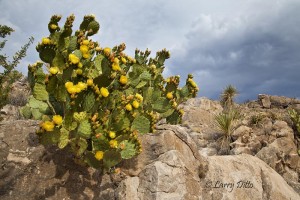 Never leave a workshop early if you don't want to miss something special.  All our students headed home a few hours too soon during the last afternoon of the workshop.  Joe and I captured these images as a storm approached Boquillas Canyon.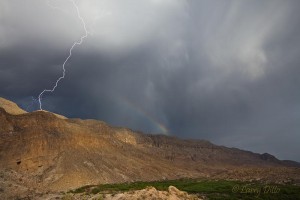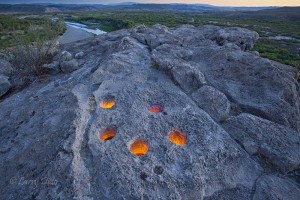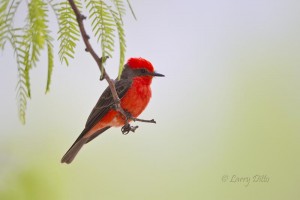 I hope you enjoyed this trip to the Big Bend.  Look for us to try it again next spring.
Larry